10 inch Crystal Bowl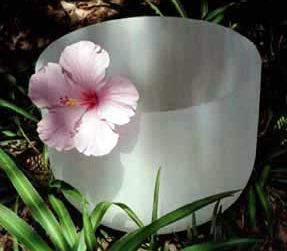 This 10 inch crystal singing bowl holds an etheric and light vibrational tone.  Comes complete with rubber ring and wand.
$270 + postage. Simply contact us here to purchase. Pay Pal and Direct Deposit available. Other sizes available.
Crystal singing Bowls can be used for many purposes; for Meditation, Healing, Space Clearing and Cleansing Crystals, Chakra Balancing and all forms of Sound Therapy.
The sound from a quartz crystal singing bowl is a pure sound. Like the sound of the 'void' – mysterious, captivating and calming. These sounds are like the primal voice of the once quiet universe delivering the feelings of pure sound with uplifting and peaceful vibrations.
Click here for more information about Crystal Singing Bowls.