Clear Quartz Wand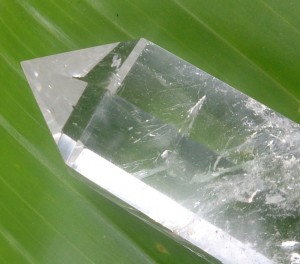 This powerful Clear Quartz wand has brilliant clarity and is pumping with vibrant healing energy. 11cm long.
$89 plus postage. Simply contact us here to purchase. Pay Pal and Direct Deposit available.
Clear Quartz crystal wands are an all-purpose healing crystal, having the ability to heal any ailment on any area of the body or aura.
Clear quartz is an excellent stone for gathering, storing, directing, and transmitting energy, but it can also transmute negative energy into positive healing energy. Its versatility and multiplicity of uses make it an essential wand for anyone to have.
Crystal wands can be used in many different methods of healing. They can be used to heal the entire body or aura, or they can be used on a specific area of the body, or on a particular chakra. They can be used to scan the aura and the chakras to locate blockages, and then cleanse and heal them.
Click here for more useful information about healing with Crystal Wands