Purple Fluorite Wand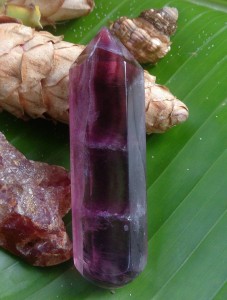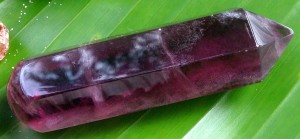 This Purple Fluorite Wand is perfect for massage, reflexology and healing. 8cm long
$39 plus postage. Simply contact us here to purchase. Pay Pal and Direct Deposit available.
Fluorite is a highly protective and stabilizing stone, useful for grounding and harmonizing spiritual energy.  When working with the upper Chakras, Fluorite increases intuitive abilities, links the human mind to universal consciousness, and develops connection to Spirit.  Fluorite further anchors intuitive insights into the physical plane, allowing mental and physical coordination.  A popular stone among energy healers, Fluorite can also clear the aura of mucky energies.
Fluorite absorbs negative energies from the environment and is effective at Auric and Chakra cleansing.  Fluorite can also shield the user from psychic manipulation.  Due to its powerful ability to absorb negative energies, Fluorite should be cleared often.
Crystal wands can be used in many different methods of healing. They can be used to heal the entire body or aura, or they can be used on a specific area of the body, or on a particular chakra. They can be used to scan the aura and the chakras to locate blockages, and then cleanse and heal them.
Wands can also be used in massage healing. Massaging the body with a stone wand helps to release tension from the body, while at the same time the stone's healing energy is transferred to the body. Smooth, round wands that are rounded on at least one end are the best to use in massage healing as they will not scratch or cause other discomfort to the body.
Pointed wands are good to use in reflexology, a healing method in which the stone's point is held at certain pressure points, mostly on the hands and feet, to heal ailments in particular areas of the body.
Click here for more useful information about healing with Crystal Wands