Healing & Ritual Wands
Turquoise, Azurite and Clear Quartz Healing Wand
This powerful large healing wand combines the energy of Turquoise, Azurite and Clear Quartz. Handmade with love and measures 18cm in length. The large Tibetan Turquoise Nugget anchor is 7cm in length and the high grade Clear Quartz crystal is 11cm x 5cm. Bridged with sparkling Azurite this healing wand is not only a true beauty but delivers powerful healing energy.
$235 plus postage . Simply contact us here to purchase. Pay Pal and Direct Deposit available. Watch Video
Turquoise is perhaps the oldest stone in man's history, the talisman of kings, shamans, and warriors. It is a stone of protection, strong and opaque, yet soothing to the touch, healing to the eye, as if carved from an azure heaven and slipped to earth. For centuries Turquoise has been recognised as possessing the power to protect.
Turquoise is known as a strengthening stone, good for exhaustion, depression, or panic attacks. It enhances the physical and psychic immune systems, supporting the assimilation of nutrients. Turquoise assists in problems of the brain, eyes, ears, neck and throat, especially cataracts, migraines and headaches, and problems with balance. Turquoise is helpful to the respiratory system and aids in healing lung disorders and allergies. As the anchor point of this healing wand it protects the healer energetically when working with other's energy fields.
I chose Azurite to bridge the two crystals as Azurite is an exceptional conductor of energy, bringing a grounded, more integrated process in healing physical dis-ease. The blue ray penetrates and moves energy, calming stress levels within the system whilst facilitating a deep healing force.
Clear Quartz is considered a master healer crystal, energiser and enhancer of all other crystals and is said to produces a force field of healing negative ions while clearing the surroundings of positive ions. It cleanses, clears and brings clarity, and connection to higher self. As Clear Quartz is a master healer crystal it may be used to treat for any condition. It is thought to stimulate the immune and circulatory systems, enhancing energy flow and bringing the body into balance. It has been used to treat migraine headaches, vertigo, in stabilizing dizziness, and is believed to assist with metabolism, exhaustion, and the adrenal system.
Crystal wands can be used in many different methods of healing. They can be used to heal the entire body or aura, or they can be used on a specific area of the body, or on a particular chakra. They can be used to scan the aura and the chakras to locate blockages, and then cleanse and heal them.
Click Here for more information on cleansing, programing and how to use your wand for healing.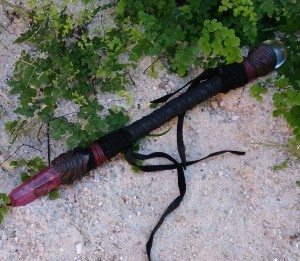 SOLD