Amethyst
Amethyst has been highly esteemed throughout the ages for its stunning beauty and legendary powers to stimulate, and soothe, the mind and emotions. It is a semi-precious stone in today's classifications, but to the ancients it was a "Gem of Fire," a Precious Stone worth, at times in history, as much as a Diamond. It carries the energy of fire and passion, creativity and spirituality.
Scroll for more properties on Amethyst.
High Grade Large Amethyst Cluster 15cm x 15cm With Cacoxenite Inclusions $85 +postage
Simply contact us here to purchase. Pay Pal and Direct Deposit available.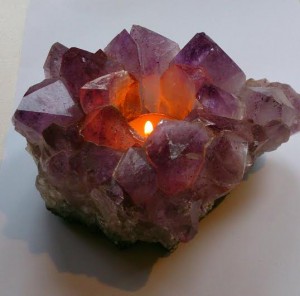 Amethyst Candle Holder With Cacoxenite Inclusions
15cm x 10cm $60 + postage
Simply contact us here to purchase. Pay Pal and Direct Deposit available.
Amethyst is a remarkable stone of spirituality and contentment, known for its metaphysical abilities to still the mind and inspire an enhanced meditative state. Its inherent high frequency purifies the aura of any negative energy or attachments, and creates a protective shield of Light around the body, allowing one to remain clear and centered while opening to spiritual direction. Amethyst stimulates the Third Eye, Crown and Etheric Chakras enhancing cognitive perception as well as accelerating the development of intuitive and psychic ability. It initiates wisdom and greater understanding, and is a stone of comfort for those grieving the loss of a loved one.
Cacoxenite in Amethyst mingles dark brown to yellow tufts of Cacoxenite, a phosphate mineral and major component in the Super Seven crystal, with the host crystal Amethyst. This combination brings a high level of creativity and new ideas to humanity by fostering thoughts that have never been thought of before. It is a calming stone, good in times of upheaval, and raises spiritual awareness of the creator essence in the beauty of nature and the kindness in people. Use in ritual on the night of the crescent and full moon to transfer healing energy to the Earth and create an ethereal connection between yourself and the universe.
(Please note: Information on this web site is no substitute for consulting a health care professional. All information contained on this web site, including information relating to medical and health conditions is for informational purposes only. Please see your doctor or health care professional before starting any alternative treatments)