Ammonite pendant with Labradorite & Tiger Eye
This gorgeous Ammonite Fossil is set in Sterling Silver with Tiger Eye and Labradorite beads / Sterling Silver chain sections.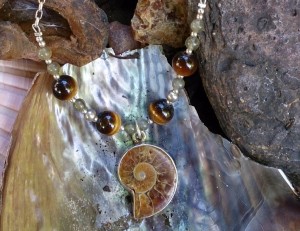 $60 plus postage. Simply contact us here to purchase. Pay Pal and Direct Deposit available.

Ammonites have a strong positive Earth energy to it, and is used in finding your way down the "spiritual spiral path" to the center where the God and Goddess await.
Ammonite can be used in past life regression. In healing, Ammonite will assist with general good health, stamina and high energy. It can help transmute negativity to smoothly flowing energy.

It is said that Ammonite may assist during childbirth and will be helpful for general survival skills. Ammonite can help release karmic debris and harmful thought patterns, while helping to attain and enhance personal power within the Self. This fossil is also helpful in releasing depression and finding purpose.
Tiger Eye beads add the properties of courage, strength, protection, focus and willpower. Labradorite adds magic, spirituality, creativity, activate psychic abilities and protection.  ♥
(Please note: Information on this web site is no substitute for consulting a health care professional. All information contained on this web site, including information relating to medical and health conditions is for informational purposes only. Please see your doctor or health care professional before starting any alternative treatments)
crystals jewellery handmade crystal jewellery ammonite fossil beads pearls pendant sterling silver healing crystal healing chrysalis heart