Labradorite Pendant 1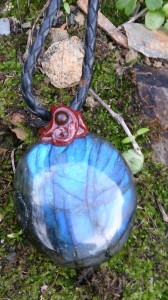 This gorgeous Labradorite pendant burst with blue luminescence. This piece is hand set with resin and a small Garnet.
$35+ postage. Simply contact us here to purchase and chose your preferred length and colour of black or brown plaited cord. Pay Pal and Direct Deposit available.
Labradorite is a stone of magic… awakening within you mystical and magical abilities and psychic powers. It has within it a deeply felt resonance that is very powerful, and it can be used to bring amazing changes to your life. It vibration also holds a broad level of protection from negativity. This is a stone whose energy is quite visible to the user… as it just seems to work so quickly. Wearing it just seems to charge you with a sense of excitement and adventure, to take the steps required to go where you have not gone before.
A stone of transformation, Labradorite is a useful companion through change, imparting strength and perseverance.  It balances and protects the aura, raises consciousness and grounds spiritual energies.  Excellent for strengthening intuition-promoting psychic abilities.  Powerful in revealing the truth behind illusions, Labradorite banishes fears and insecurities, and strengthens faith in the self and trust in the universe.  It stimulates the imagination and calms an overactive mind, developing enthusiasm and new ideas.
Labradorite is said to help with disorders of the eyes and brain, stimulates mental acuity, and relieves anxiety and stress.  It regulates metabolism and balances hormones.