Tiger Eye pendant with plait and beads
This gorgeous pendant comes with hand plaited cord and Tiger Eye beads.
Only $27 plus postage. Simply contact us here to purchase and advise of the length you would prefer. Pay Pal and Direct Deposit available.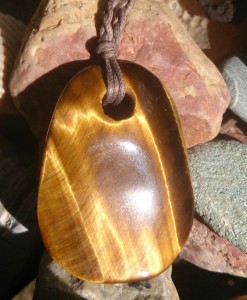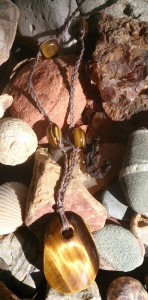 Tiger Eye is a beautiful stone whose name comes from its resemblance to the eye of a tiger.
Tiger Eye's primary mystical property is that it provides mental focus and confidence. It helps you face and overcome difficult challenges and stick to your plans. For this reason it is sometimes referred to as a stone that brings professional and financial success. It is also a fabulous stone to protect you whilst traveling.
If you have the habit of giving up and backing down from your fears, and of being easily distracted from what's important, then Tiger Eye is a great stone to wear.
By wearing the Tiger's Eye stone helps clear your mind of any annoying thoughts or stress. Also its power has the ability to attract wealth, good luck and protect one's family and friends.
Tiger's Eye encourages a passion for life and enhances your willpower. It promotes clarity of intention, boosts self esteem, and gives courage, determination, and strength.
On a physical level Tiger Eye is said to be useful for those who are generally unwell and weak, in relieving high blood pressure, and helping bronchial asthma, and rheumatic heart disease.