Sundreamers
More designs to come ♥
All our Sundreamer Mobiles are handmade with love and created to bring an abundance of rainbows into your living or working space. Each piece has been combined with natural crystals and gemstones to enhance and add beneficial healing properties. The benefits of rainbows in your working or living space are endless. Rainbows bring with them all the colours of the charkas, each colours individual healing ray and a sense of upliftment and happiness.
Scroll for our current range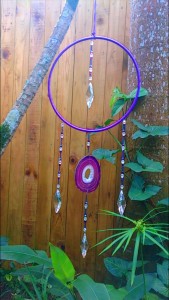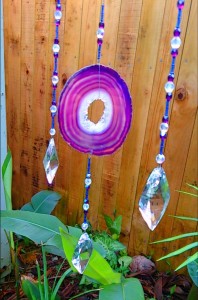 Purple Rainbow Extra Large Sundreamer 
Gorgeous large faceted diamond Austrian Crystals throw an abundance of rainbows to any area when catching and refracting sunlight. This handmade one of a kind Sundreamer Mobile features a large purple Agate slice. Agate is said to be 'The' stone everyone should have for protection. Agates attract strength. Agate is a protection from bad dreams. It also protects from stress and energy drains. Agate enhances creativity and strengthens the intellect, making it a beneficial stone for both students and artists. It is also known as a good luck stone. As a stone of harmony, one of the things agate does is balance yin/yang energy. Agate increases energy.
The hand wrapped hoop diameter is 22cm. Purple Agate with Crystal Druzy centre is 9 x 7cm. 4 x Faceted Diamond Austrian Crystals are 6 x 4cm.  $65 + postage.  Simply contact us here to purchase. Pay Pal and Direct Deposit available.
(Please note: Information on this web site is no substitute for consulting a health care professional. All information contained on this web site, including information relating to medical and health conditions is for informational purposes only. Please see your doctor or health care professional before starting any alternative treatments)